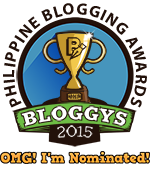 A few days ago, I received an unexpected email with the news that my blog, The Yogini from Manila, "has been nominated by several netizens in #bloggys2015, Philippine Blogging Awards" as a nominee/finalist for its Health and Fitness category.
For many years, blogging awards recognized bloggers in various fields (entertainment, travel, multimedia, lifestyle and even advocacy). Health and wellness was never included as a category. I guess awareness of health and wellness was not as high in consciousness then as it is now. In fact, when I started my yoga blog in 2006, yoga was not yet as widespread as it is now.
I am thankful to Bloggys 2015 for initiating the category on Health and Fitness. It is high time we give wellness the same, if not greater, importance for bloggers and the public in general. Health is always our true wealth.